Sedao Digital Signage Eco-System
Complete integrated digital signage communications solutions for Corporate/Business, Education, Healthcare, Hospitality, Government, Tourism and Retail environments.

Enhance your viewers visual experience and engage on a dynamic platform with Sedao's range:
Digital Signage
Room Booking
LFD Screens
Collaborative Board Messaging (Clevertouch)
DIGITAL SIGNAGE
Sedao Digital Signage is a cost effective and easy way to engage with large audiences in public spaces.
The Sedao range of digital signage solutions include a simple to use digital signage platform which combines enterprise level digital signage design software with affordable digital signage hardware equipment.
Managed from a single platform, the Sedao digital signage hardware range includes media players, LFD professional display screens, room booking panels and dedicated app for select Clevertouch collaborative panels.
All of the Sedao Digital Signage solutions are designed to enable users to communicate and engage with a large audience through the display of vibrant and informative digital messaging.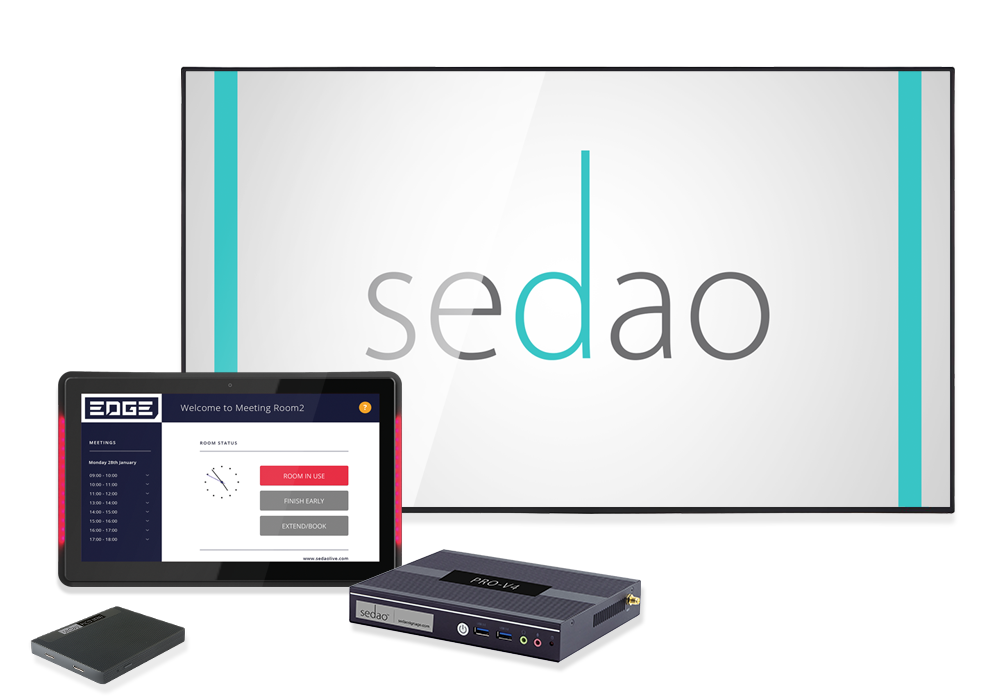 DELIVERING leading digital signage technology
Since 2004 Sedao has been delivering industry leading digital signage solutions that enables users to engage with customers, staff, students or other audience.
Sedao Digital Signage Solutions are simple, easy to use and offer a range of exciting, engaging features at affordable prices.
Recognised as innovative, reliable and cost-effective, the Sedao Digital Signage solutions are suitable for all industry sectors.
digital signage solutions for different requirements
Sedao Digital Signage manufactures both cloud based digital signage and on-premise (LAN) digital signage.
SedaoLive CLOUD digital signage - manage any number of screens from one on a single site through to multiple screens across multiple sites with this web-based solution.
SedaoLive LOCAL CMS - manage any number of screens on a single site with this dedicated on-premise network solution.
digital signage for all COMMUNICATIONS NEEDS
Designed for use on high impact digital video walls to single digital signage reception screens, dynamic museum touch screens to hospitality menu boards through to free standing retail displays and wall mounted tablets, Sedao Digital Signage offers flexibility for all communication needs.
ORGANISATION WIDE DIGITAL SIGNAGE COMMUNICATIONS
With the integrated Sedao Digital Signage Eco-system, end users can be sure the desired audience never misses a message.
Manage displays on Sedao LFD screens, SedaoLive Rooms room booking panels and the Clevertouch collaborative whiteboards for a complete organisation wide digital signage solution.
Suitable for displays in reception, corridors, meeting room entries and inside meeting rooms.
INTUITIVE digital signage SOFTWARE AND UNIQUE FEATURES
The Sedao Digital Signage platform is designed for everyday users and has an intuitive, easy to use interface.
Unique features such as virtual buttons, physical triggers and QR code integration improves engagement and interaction with audiences.
The quick drag and drop function along with the shared library folder capability reduces labour time for digital signage users.
digital signage IN LESS THAN TEN MINUTES
The easiest digital signage solution on the market, SedaoLive CLOUD has a range of existing templates that are rebranded using a logo and two images. The customising editing takes moments and the drag & drop funtion ensures a display is on the screen in less than ten minutes.
Case Studies
Find out how our customers use Sedao Digital Signage to communicate with a diverse range of audiences.